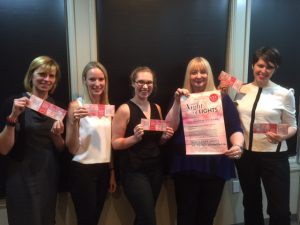 Here's a great way to support Wear2Start and one of our great sponsors while treating yourself to a night out — all for just $5.
The 16th annual Night of Lights at Hillside Shopping Centre offers exclusive admission to the shopping centre for a night of in-store discounts, tasty treats, live entertainment and a chance to win one of more than 100 door prizes, including the grand prize trip for four to Disneyland. That trip, for two adults and two children, includes airfare and transfers, and three-nights accommodation at The Castle Inn in Anaheim, plus three-day Disneyland Hopper passes.
To get into the mall from 6 to 9:30 pm on Sunday, Nov. 20, you need a special Night of Lights ticket, which costs $5 — and the full $5 goes to charity — that's us at Wear2Start!
We have a limited number of tickets available. They can be purchased from Wear2Start treasurer Sarah Clark and must be picked up from her office in downtown Victoria. If you would like to purchase a ticket, please contact Sarah at sclark@wear2start.com.