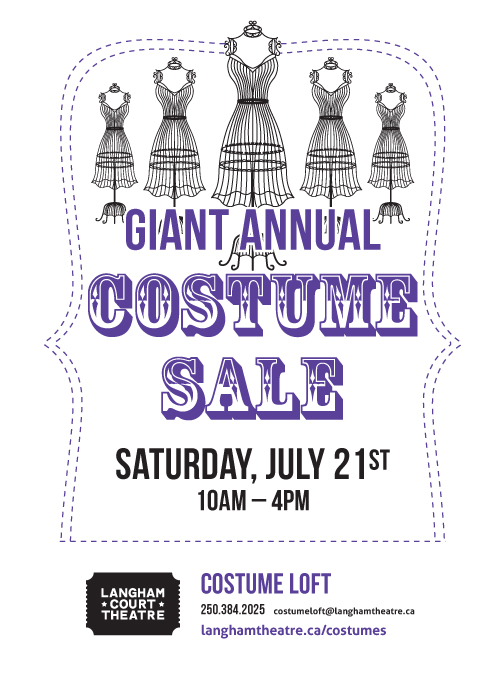 Langham Court Theatre's GIANT Annual Costume Sale will be the biggest sale yet – and Wear2Start will benefit!
 After last year's overwhelming success, Langham Court's sale organizers decided to extend the event out over three days, July 20-22, 2018.  Friday night is a preview evening with sales only occurring in the lounge. This is an exclusive ticketed event operating as a fundraiser for Wear2Start with appetizers and a cash bar. Limited tickets available from costumeloft@langhamtheatre.ca.
 Saturday is the main sale day and coincides with the Moss Street Paint-In. On Saturday, there will be food vendors and all day shopping from 10-4. Sunday is the reduced priced "Garage Sale" day, with at least a 50% discount on all items.
With such an expanded sale, Langham Court is looking for more volunteer help than ever before. Prep week starts July 16th and will continue through the rest of the week as we merchandise, sort, prepare for the crowds during a very busy weekend. A crew is also needed to help with clean-up at the end of the day Sunday.
Some Wear2Start members will be at the sale, helping where we can. If you are interested in volunteering, fill out this Google form here.
There is no minimum time commitment, however volunteers who help for 6+ hours during the prep week or Sat/Sun sale days get to shop all sale items before anyone else. There will be plenty of snacks with tea/coffee throughout the week, volunteer lunch on Saturday is provided, as well as a pizza thank you to the clean-up crew on Sunday evening.
Thanks to Langham Court for its invaluable and much appreciated support of Wear2Start!